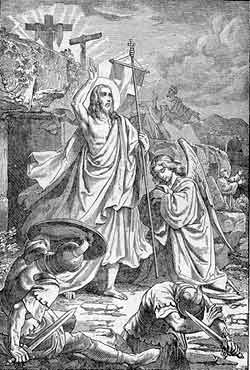 For April 7, 2007 which is the Paschal Vigil, we are going to sing:
Canticle:

Cantemus Domino

Canticle: Vinea facta est
Canticle:

Attende caelum

Canticle:

Sicut cervus



Litany of the Saints (cont. from "Propitius esto, parce nobis Domine")
Gloria I (accompanied by the ringing of bells)

Alleluia:

Confitemini Domino

Tract:

Laudate Dominum

Offertory hymn: Regina Caeli, Jubila

Communion hymn: O Filii Et Filiae

Communion: Alleluia (repeat after the end of Laudate Dominum)

Antiphon:

Et valde mane

Canticle:

Benedictus Dominus

(repeat Antiphon

Et valde mane

at the end)

Recession: The Strife is O'er

Click on the links to hear samples where available. NOTE: The Credo and Agnus Dei are not sung/said in the Paschal Vigil Mass.